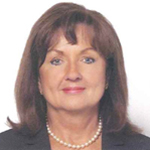 Public Relations, Crisis Communication Management
Company: Farrell Associates LLC
Email: junefarrell@verizon.net
Phone: 301-365-0841
Charter Member, Business Advisors Consortium
June Farrell is managing director of Farrell Associates LLC, a Bethesda, Maryland-based marketing public relations and crisis communications management firm.
Expertise
For nearly 30 years, Ms. Farrell served in the global communications department of Marriott International where, for nearly two decades, she was Vice President of International Public Relations. In this capacity, she was responsible for the development and implementation of brand differentiation publicity initiatives, helped develop corporate communications response in crisis situations and led the development of individual market support public relations programs in 70 countries outside the continental United States. She created and managed a network of 15 independent public relations agencies and supported the International Lodging Division's senior leadership with a range of support services including event management, speech writing and pro-active media relations.
Background
Earlier, she began her travel industry Public Relations career withEastern Airlines where she served as regional public relations manager in Washington, D.C. and led the reenactment of the company's first flight from New York to Miami on its 50th anniversary, helped introduce its new routes into the Caribbean and Latin America, and created a public relations program to attract women business travelers.
Before joining Marriott, she was a consultant on women's issues in the Office of Public Liaison at The White House during the Reagan Administration and was director of public affairs at the non-profit National Captioning Institute.
Ms. Farrell is a graduate of Ohio University, earned her master's degree in public relations from The American University and completed continuing education courses at the American Management Association. She was an adjunct instructor at Montgomery Community College in tourism marketing in Maryland and has lectured on crisis communications at George Washington University in Washington, D.C.
Accolades
Ms. Farrell is a former member of the Travel Industry Association of American where she served as chair of the communications council and as a member of the national conference planning committee. She is listed in Who's Who in America, Who's Who Among American Women and the World's Who's Who of Women.