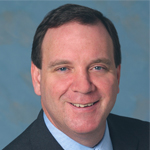 Hospitality Development, Acquisition, Finance
Email: kkearney1028@gmail.com
Phone: +1 603-397-3928
Location: Alton, NJ
Charter Member, Business Advisors Consortium
Kevin Kearney is a private consultant to the lodging industry. His practice focuses on developers, investors, and lodging companies requiring expertise in all areas of hotel development, acquisition, and finance. In addition to his work for MIG Real Estate, Mr. Kearney currently consults for the Louvre Hotel Group in Paris, and teaches courses in hospitality real estate finance at the Ecole Hoteliere de Lausanne, in Switzerland.
Expertise
During a 23-year career with Marriott, Mr. Kearney was responsible (1999-2009) for Marriott's lodging development efforts in Europe, the Middle East, and Africa (EMEA), and in Latin America & the Caribbean (1992-1999).
Under his direction, Marriott's EMEA presence more than doubled, to almost 300 properties open or under construction, and he lead the development and implementation of new European prototypes for the company's highly successful Courtyard by Marriott and Residence Inn by Marriott brands. Mr. Kearney directed the work of over 30 professionals in the areas of business development, project feasibility, project finance, architecture and construction, and law. He and his direct reports were responsible for negotiating management and franchise agreements and capital investments (loans, guarantees, equity investments, and direct acquisitions) for all of Marriott's new units across EMEA.
In Latin America and the Caribbean, Mr. Kearney developed over 25 major hotels for Marriott, including many in new markets for the company, such as Brazil, Argentina, Chile, Costa Rica, and The Cayman Islands.
Background
Mr. Kearney was born in 1961 and is a native of Cleveland, Ohio, USA. He received a Bachelor of Science degree from the School of Hotel Administration at Cornell University in 1983, graduating With Distinction.
Upon graduation, Mr. Kearney joined the accounting firm of Laventhol & Horwath and worked on hotel market studies and other real estate assignments across the mid-Atlantic states. He joined Marriott Corporation in April 1986 as Manager, Hotel Development Planning, and held positions of increasing responsibility in Marriott's Feasibility Department from 1986 through 1992.
Personal
Mr. Kearney is a frequent guest lecturer at leading hotel schools. He resides in New Hampshire.