By: Edwin Fuller
Founder and President of Laguna Strategic Advisors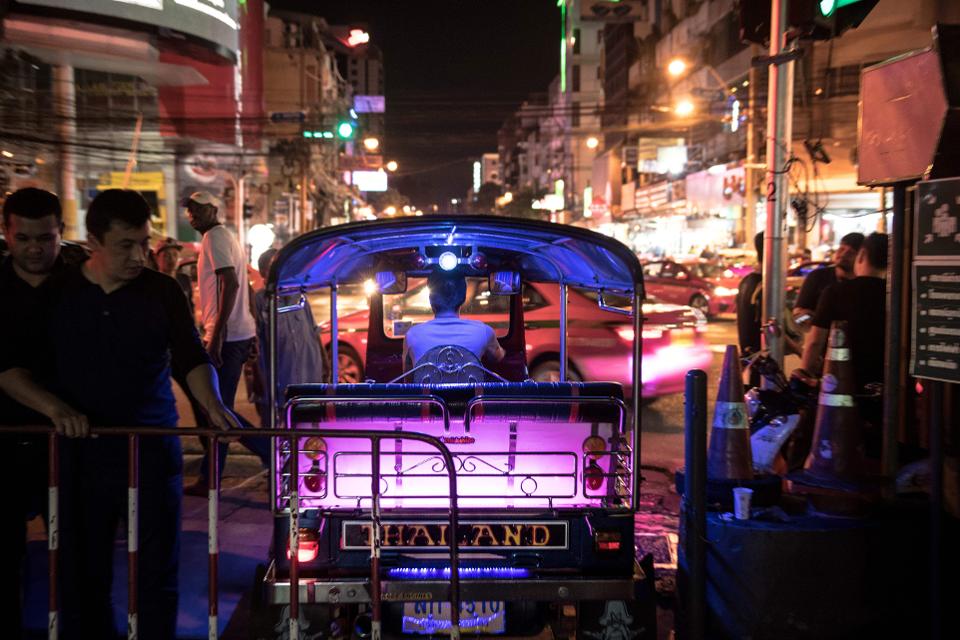 Thailand has been a personal favorite of mine since my wife and I first visited in 1970 while I was on a one-week Rest & Recreation respite from the war in Vietnam. Back then, Bangkok was a smaller city and lacked much of the vibe of the metropolis it's become over the nearly 5 decades since then. For one thing, few buildings stood more than 6 stories high; but what Bangkok did have in abundance then, as it does today, were its wonderful, warm, welcoming people—full of smiles and respectful hospitality. We felt like visiting dignitaries.
In those days, Thailand attracted roughly 350,000 foreign visitors annually and about 55,000 of this number were folks like me, a GI on R&R. Little did we envision at the time that we were the forerunners of the record 32.6mn folks who would visit Thailand annually by 2016. Supported by an airport that serves as a major international transport hub and the 1970 opening of the 510-room, 21-story Dusit Thani Hotel, Bangkok stood on the brink of ushering in its future as a tourism mecca during my first visit. When the Dusit opened, it was Bangkok's tallest building and its first luxury hotel. Long a Bangkok landmark, the hotel will be demolished next April to make way for an entirely new Dusit Thani property—taller than the original, but with just 300 rooms.
Over the rest of the 70s, global mass tourism took off due to the world's rising standard of living, more people enjoying more free time to travel for pleasure and technological improvements that made it possible to travel further and in greater numbers—a development embodied by the introduction of the Boeing 747 which flew commercially for the first time in 1970 and which United Airlines just retired from its fleet a few weeks ago.
Thailand was among first to embrace tourism as GDP generator
In Asia, Thailand, one of the first countries to promote itself to international tourists as an economic generator for its GDP, has ridden the world's tourism wave as no other—with amazingly positive results.
This year, Thailand expects to welcome almost 35mn visitors, the equivalent to half the country's population. Tourism accounts for nearly 17% (or $71.4 billion) of the Kingdom of Thailand's annual GDP (the global average for tourism revenue is 9% of GDP). This year, Tourism Authority of Thailand (TAT) officials predict revenues for domestic and foreign tourism combined will likely surpass earlier forecasts of $78.5 billion.
Getting to this high point over the past five decades has not been easy. The history of Thailand since the early 1970s has seen periods of unstable democracy, the imposition of military rule following periods of political coups (the most recent in 2014), incursions by its neighbor Vietnam, the Asian Financial Crisis in 1997, various regional health epidemics including the Avian Flu scare in 1997 and the SARS epidemic of 2002 both of which took their toll on tourism, the giant Indian Ocean tsunami of 2004 that devastated huge sections of Thailand's tourism economy especially around Phuket and the passing last year of the country's highly-revered King Bhumibol Adulyadez, who served as the country's singular stabilizing force through its triumphs and tragedies since 1950.
Now, a ruling military junta promises new elections and has drafted a new constitution. Among its provisions is a constitutional court which will have final authority in times of crisis, a power previously held by the late King. The new ruler, King Maha Vajiralongkorn originally refused to put the constitution into effect until amendments were made to the provisions concerning the authority of the constitutional court. Nevertheless, the new constitution was passed following a referendum in August 2016 and has entrenched the military's political role regardless of the outcome of the general election which is now expected to be in 2018.  And, so it goes.
Countering competitive challenges with niche markets & more
Against this background of political turmoil, natural and health disasters and regional financial crises, Thailand's tourism machine has rolled on, despite
increasing competition from neighboring Laos, Cambodia and Vietnam whose destinations like Angkor Wat and Halong Bay now rival Thailand's former monopoly in the Indochina region. To counter the challengers, Thailand has targeted niche markets like golf and gastronomic holidays and medical tourism and plans to become the hub of Buddhist tourism in the region.
It is also shifting its tourism promotion strategy away from volume generation to encouraging longer stays and higher daily spending per visitor as well as making it easy for visitors to explore less-visited Thai destinations. Among these are Praset Hin Phimai, which boasts some of the most impressive Khmer ruins in the country; Koh Lipe island in the Andaman Sea, home to about 25% of the world's fish species; Kao Sok National Park, site of the largest expanse of virgin forest in Thailand; and the historic, two hour ride aboard the Thai-Burma Railway over the River Kwai Bridge of World War II fame.
As Tourism Minister Kobkarn Wattanavrangkul put it recently, "We shouldn't go beyond the limit with which we can cope. But there's no statistic on that yet. When people say that Phuket may be too crowded, or Bangkok is too crowded, we have to make sure that we are introducing new destinations too."
Arrivals from overseas have more than doubled in the past decade, powered by a surge in Chinese visitors who contributed 28% of Thailand's foreign tourism receipts last year. One of the reasons why Thailand has topped Malaysia as Southeast Asia's most popular destination is affordability, but Kobkarn has said that the nation must focus on quality as well. This doesn't just mean targeting upscale tourists. Instead, it refers to offering good value experiences that encourage return visits, increase the length of stay and foster higher daily spending.
Meanwhile, accolades for Thailand and its attractions continue to mount. In a list released by Instagram that identified the 10 most photographed locations worldwide in 2012, Suvarnabhumi Airport and Siam Paragon shopping mall were ranked 1st and 2nd respectively, more popular than New York City's Times Square and Paris's Eiffel Tower. In 2014, Bangkok placed 2nd in a MasterCard ranking of the world's top 20 most-visited cities, trailing London. In 2016, Bangkok ranked 1st surpassing London and New York in Euromonitor International's list of "Top City Destinations".
I've returned to Thailand numerous times since my first visit in 1970, both for business and personal reasons, and am always amazed and enchanted by what I have encountered. Venture out beyond Bangkok and Phuket and you'll find almost everything here: white sandy beaches, crystal blue waters, thick jungles, elephant refuges, incredible craftsmanship whether in tailoring to furniture-making, great food, natural beauty including volcanoes and majestic rivers, health spas, amazing cultural and historical sites dating back centuries and some of the most beautiful silks the world has to offer. The only trouble you're likely to experience when planning a trip to Thailand is deciding on what you want to see, do and experience.
Enjoy!