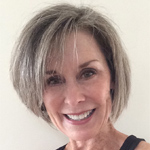 Brand Development, Strategic Planning, Marketing
Company: 4Front Branding
Website: www.4frontbranding.com
Email: pat@4frontbranding.com
Phone: 808-256-6759
LinkedIn: Pat Monick
Location: Honolulu, HI
Charter Member, Business Advisors Consortium
Pat has over 25 years of branding experience for both local and international brands. She is co-owner and Partner of 4Front Branding, and uses her vast business experience grounded in the ability to understand consumer needs to guide her clients to success. She is known for her attentive client service, strategic thinking and broad view of business.
Experience
Pat began her career in fashion design which eventually led her to the advertising industry. Armed with degrees in design and textile chemistry, Pat became the Head Designer of a national dress line produced in Honolulu. Her management skills blossomed as she demonstrated her ability to take designs from concept to production and distribution.
In 1990, Pat sought to blend her creative and business skills by joining Honolulu-based graphic design agency, Castro & Nomura. A natural self-starter, she saw the opportunity to expand the business to something more. She developed the account service, media and market planning departments, forming a new full-service agency, Castro / Monick, in 1991.
In 1993, Laird Christianson Advertising (now known as Anthology) came calling. While serving for many years as Senior Vice President of Account Service, she helped transform them from a small, five-person company into what it is now, Honolulu's largest marketing communications company. Her experience and business acumen helped bring in category leaders in hospitality, retail, finance / insurance and development.
Not one to stand still for long, Pat sought a new challenge and formed a partnership in 2006 with Creative Director, Stan Moy, as Red Rover Creative LLC dba 4Front Branding.
Accolades
Pat was named the Hawaii Advertising Federation's (AAF) 2009 Ad Woman of the Year, an award designed to recognize women who have made significant, ongoing contributions to the Hawaii advertising industry. She also served on the Board of Directors for the YWCA from 2000 to 2003 and is past President of AAF Hawaii.
Education
Pat graduated from the University of Minnesota – Twin Cities with a B. S. in Apparel Design. She also holds a Master's degree in Textile Chemistry from the University of Minnesota – Twin Cities.